An easy way to learn the art of henna in the comfort of your own home is our Henna Body Art Kit. It's a workshop-in-a-box, making a beautiful gift to yourself and others.
For a group-learning environment, the Byron Henna School offers a range of workshops in uptown Brunswick Heads; alternatively, we can come to you. In love with sharing the wonders of this little plant, our workshops aim to give an understanding of the ease and availability of creating your own safe and natural henna-leaf paste, whilst gaining an appreciation for the cultures from which it comes.
Providing flexibility of focus, our workshop options range from one to four hours. Whether it's simple henna application guidance or a deep diving experience into tool and paste-making, personal symbolism and ancient ritual use, we offer fulfilling sessions, with small class sizes.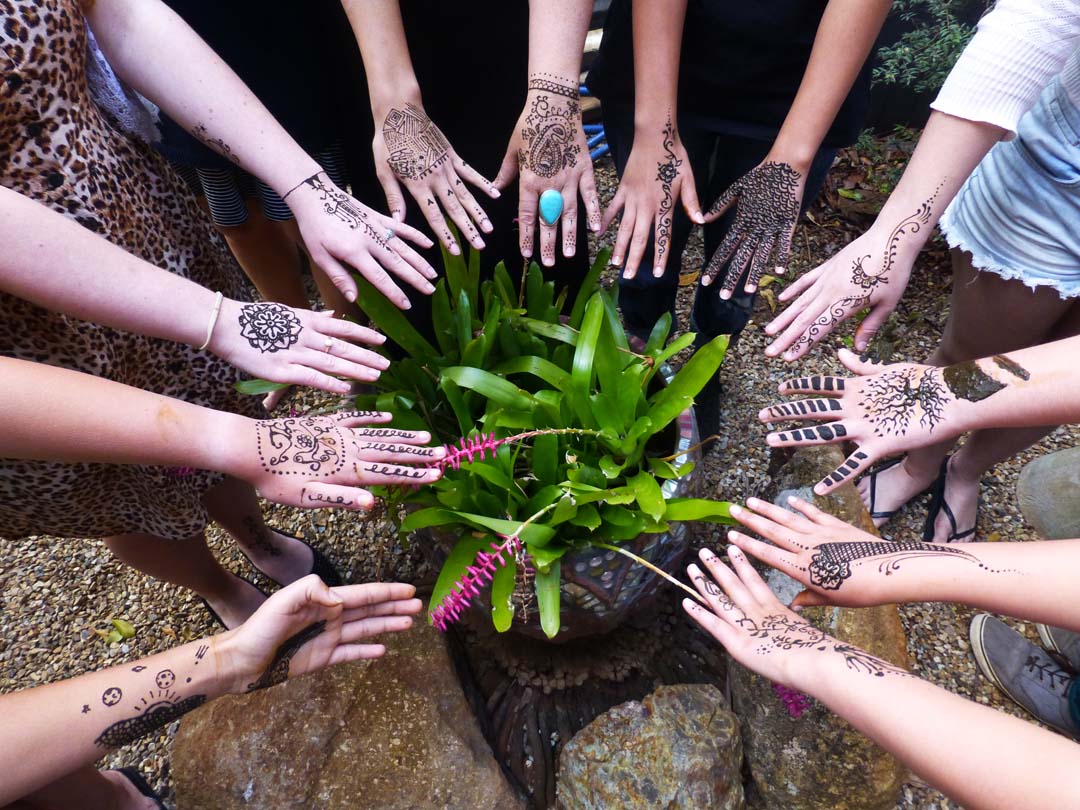 Henna Flow
Hands-on guidance tackling henna designs and application techniques. Tools and henna paste provided. Includes brief take-home notes on history, medicinal and cultural use. (1 hour).
$40 per person.

The Art of Plant
A duo of classes which can be taken singularly, or combine to make a full day out with an hour lunch break.
MIX & MAKE: mixing fresh henna paste, making tools. (2.5 hours). $60 pp
DESIGN & DRAW: create designs, application techniques. (2.5 hours). $60 pp
Full Day: $110.00 per person.

Heart of Henna
Discover the history of henna, medicinal use, culture and symbolism. Learning to hand-mix natural henna paste, application techniques and tips, decipher designs and create your own. Includes natural henna paste, mixing bowl and tools, take-home notes, coffee and baklava. (3 hours).
$80 per person

School Groups
For Special Interest or school groups, we have an extensive list of subject areas to select from.  Suitable for a range of high school subject curriculum, home-school groups, primary school, after-school care and extra-curricular groups, birthday parties, hens parties and corporate team-building.  If you'd like to tailor your own henna workshop focusing on specific subjects, choose from our list below or feel free to suggest your own. Whole workshop time depends on how many subjects are chosen and the size of group. Minimum time for practical henna application session is one hour. To comfortably cover all subjects on menu, four hours is best.  Please get in touch to plan your workshop now.
$100 per hr, plus Materials $10pp
Larger class sizes (over 15) will require another assistant for practical session.
Refreshments and lunch can also be arranged.